Cloud Servers [1.X]
Product information
Release 1.7.0 (Updated )
Reviews
0 out of 5 stars
no reviews just yet
Let users to make their own servers!
Release history
Description
NEW: AUTOMATIC INSTALLER (beta) Now you can install this addon with a installation script
With this addon users can create their own servers. You allow some resources to a user and he can create servers with it.
If enabled, they can also link their pterodactyl user account to a WHMCS panel for reselling servers. For reselling users can also create another users and change their username email password etc...
You can limit the ram/disk/cpu/databases/allocations/backups. You can also limit the servers and users number.
You can disable cloud on some nodes. if disable cloud servers are not going to be created on this node.
You can also allow only some egg to the cloud servers. Cloud users can edit their panel name/logo/footer. These modifications will be effective on the cloud user and on the users created by the latter.
You can in one click suspend all servers from a cloud users. If you delete a cloud users all related servers are going to be deleted too.
2 WHMCS Modules are delivered with this addon:
The first is for you for create cloud user trough WHMCS
The second is the module that you need to provide to your client for reselling. This allow to create cloud servers trough WHMCS with users resources. This modules includes auto-setup.
Like one of my client said : "it's perfect for dedicated resources and giving the customer full control of their own service!"
Supported Pterodactyl Panel Versions - 1.4.2, 1.5.0, 1.5.1, 1.6.X, 1.7.X, 1.8.X, 1.9.X, 1.10.X, 1.11.X
Demonstration Videos
-Admin Side Presentation : here
-User Side presentation : here
-Admin WHMCS Module presentation : here
-User WHMCS Module presentation : here
Features
-WHMCS ADMIN module
-WHMCS USER module
-Everything can be configurate
-Node selection
-Location Selection NEW
Images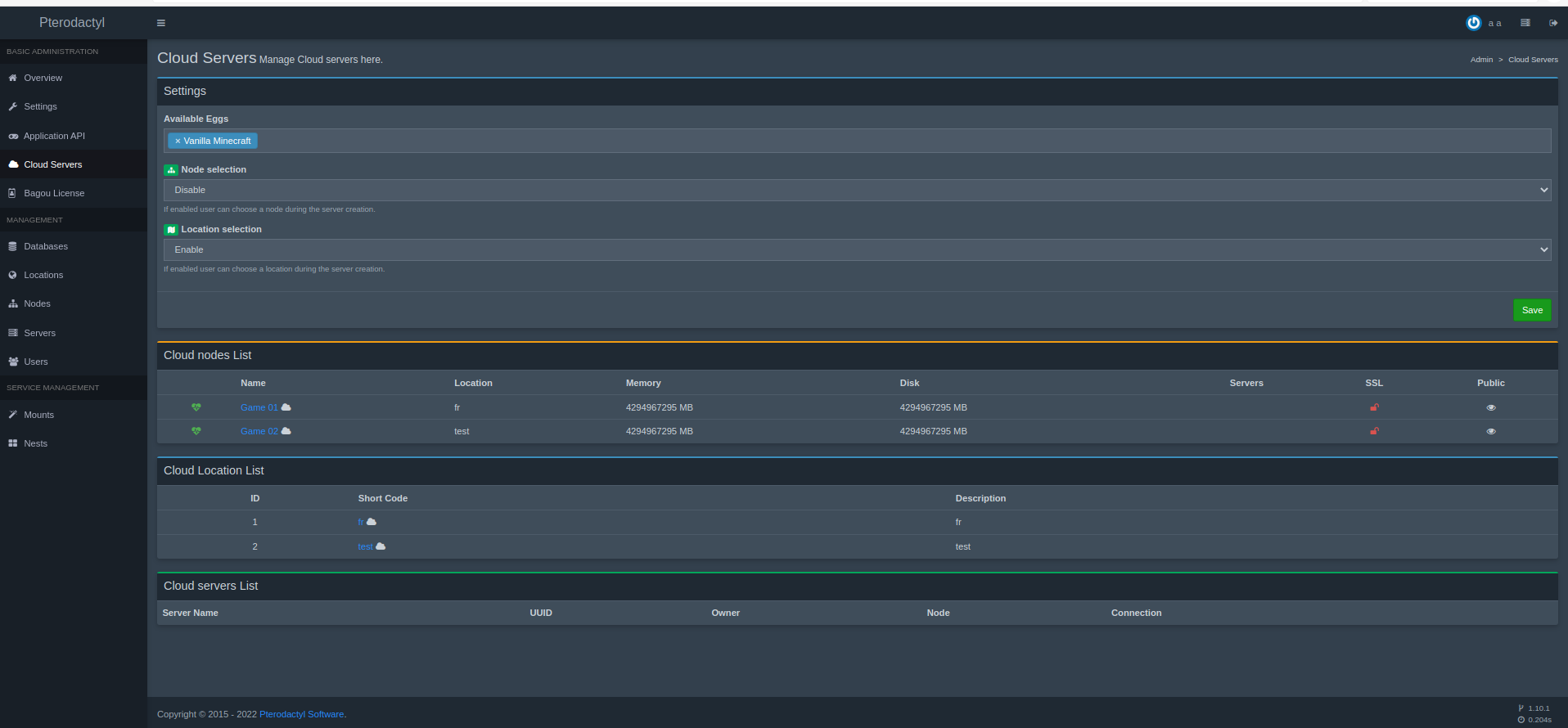 Planned features
-Add ClientXCms Module
Please note that by purchasing and using this addon, you agree that:
-Don't Resell this addon.
-Don't give this to other people.
-No refund
-Don't Copy this addon.
If you have any questions you can :
-Contact me on discord (48 hours answer time)
-Send a SMS to +33 7 56 89 00 36 (Unsurcharged number, No call) (6 hours answer time)
-Send a email to [email protected] (12 hours answer time)